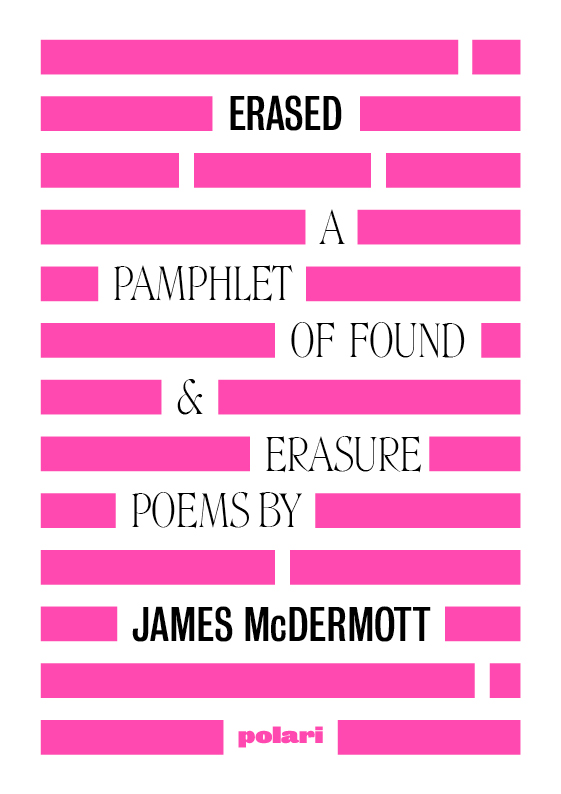 Erased
Erased is a limited edition hand-bound poetry pamphlet in which writer James McDermott takes found homophobic newspaper articles, speeches, legislations and biblical passages and makes erasure poems out of them to reveal queer subtext or to turn them into gay-friendly pieces in the hope of reclaiming those texts which tried to erase gay lives.
"Erased is brilliant and very beautiful. We love it" — Gilbert & George
"Erased deploys erasure poetry to answer back to decades of censorship and homophobia. In their re-making, we enjoy Tinky Winky as gay icon, and the 'coming in' of John Inman. Through selection and arrangement, the not-so-latent queerness of 'American manhood' magazines is illuminated. Removing 'not' from Section 28 legislation makes it a riot of celebration; the pluralised UK national anthem, an invocation to 'save the queens'. The selective repeated blackout of a public notice becomes a litany of repression, where 'police are toilets'; the un-mention-ability of Oscar Wilde's Acts, transformed into an invitation 'to be / out / hard'. Even God says he's, "set my rainbow / in the clouds"'. Through selecting and reversioning these texts, we see that ultimately, in the witty words of Pride placards, "love is/power/love wins" — Caleb Parkin

"McDermott's new pamphlet quivers with political tension and confirms him as a vital voice of queer British poetry. In a hostile world of microaggressions, and with a history that's been less than kind to queer people, McDermott changes the narrative of homophobic documents, revisits their language and moulds it into a glittery powersong of wonder and unashamedly queer joy. 'God save our gracious queens' indeed" — Serge ♆ Neptune

"Erased is a crystallised gem of a collection. Emotive, evocative, and ingenious. Using central conceit that keeps on delivering, James McDermott has uncovered something truly special, an iridescent revision of the canon and our received wisdoms" — Rick Dove
Orders receive an exclusive Polari tasseled bookmark in matching hot pink, while stocks last.
£7.99
In stock